2016 Sweet Baby Red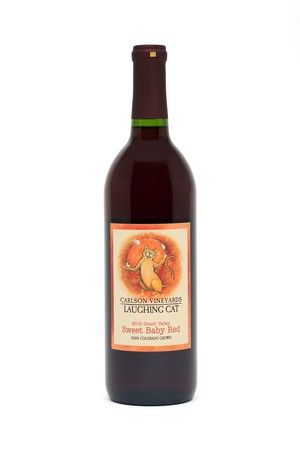 The Laughing Cat Sweet Baby Red is a semi-sweet red wine blend of Colorado-grown grapes, primarily Merlot.
Wine Profile
Tasting Notes
This red wine is medium-bodied with aromas of raspberries and other berries. If you like to drink a heart-healthy red wine and prefer fruity rather than a dry style, try this. Well-loved by visitors.
Food Pairing Notes
Try with pork, chicken, glazed ham, chocolate raspberry desserts and brownies. Serve slightly chilled.
Product Reviews
Redge Hansen
(Jun 22, 2017 at 9:03 AM)
my favorite
Rachel
(Jul 5, 2017 at 2:37 PM)
I forgot how I came across this gem but this wine is amazing. It's sweet but not too sweet like a dessert wine. I drink it all the time and love to use it for sangria. This wine and I are a match made in wine heaven. Bonus for me: I am a crazy cat lady so the name is perfect. Cheers!
Marjie
(Sep 30, 2017 at 5:32 PM)
LOVE this wine. Perfect sweetness and dark notes. So glad we found this.
Amy
(Nov 10, 2017 at 3:40 PM)
I really love sweet baby red I used to live in Colorado and this was a go to wine I loved it but I had to move to Georgia and found out I can't get it here so I am super bummed because I can't find a wine her I like as much as I loved this one! Please make it possible for me to order this wine in Georgia!
Bella Omerigic
(Jan 6, 2018 at 11:34 AM)
This is by far my favorite wine in the whole world! Excellent flavor!
Sue
(Feb 15, 2018 at 2:14 PM)
My favorite wine!
Merlin Armstrong
(Jun 3, 2018 at 4:04 PM)
It is sweet but a clean finish. Big hit .
Joyce
(Jun 16, 2018 at 8:05 AM)
If you enjoy a little sweet but not real sweet you will enjoy this. Love most of their wines.
Gary Tate
(Jul 9, 2018 at 11:39 AM)
MY FAVORITE AND THE ONLY ONE I WILL DRINK.