2015 Sweet Baby White
Laughing Cat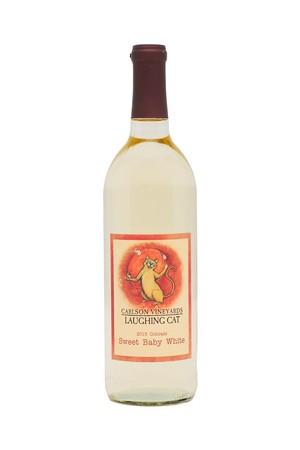 Introducing our newest litter mate- the Laughing Cat Sweet Baby White, a semi-sweet white blend.
Wine Profile
Tasting Notes
This white wine is medium-bodied with aromas and flavors of peaches, honey and citrus.
Awards
Gold- Indy International Wine Competition; Silver- Mesa County Fair Commercial Winemaker Competition
Food Pairing Notes
Try chilled with chicken, pork, white sauce pasta, big salads, cheese or by itself. Be adventurous - experiment! Goes particularly well with good friends.
Product Reviews
Sarah Dillen
(Apr 22, 2017 at 5:09 PM)
I received this bottle as a Christmas present. It does not disappoint; sweet and delicious. Full of flavor, we paired it with a chicken dinner and were completely bummed when it was gone. Hoping one day you will ship to Ohio!
Rich
(Apr 28, 2017 at 8:16 AM)
Great taste! Not to sweet! Just Right!
Emily D
(Jun 7, 2017 at 5:22 PM)
My favorite!!