2016 Sweet Gewürztraminer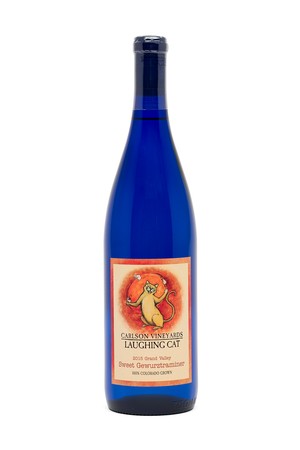 Sweet Gewurztraminer exudes the luscious floral aromas and tastes of our traditional Gewurztraminer, yet it is a sweeter white wine for sweet wine lovers.
Wine Profile
Food Pairing Notes
Sweet Gewurz is great with smoked salmon, bratwurst, turkey, Asian food, and spice cake. Gewurztraminer is famously good with the chaos of flavors at Thanksgiving meals. Serve chilled.
Product Reviews
Joyce Short
(Aug 21, 2017 at 2:52 PM)
I love this wine. If you enjoy sweet wine you will love this one. Since we live in Utah we have to drive there to get it... o shipping to Utah. My favorite ever!
Karen Saltas
(Oct 10, 2017 at 12:11 PM)
This wine is to die for. It has just the sweet tastes to make every meal a gem. I used to live in Utah and enjoyed the drive to Colorado wine country. I now live in Montana so getting to Grand Junction is a bit farther of a drive but will be head out soon
Tasha F Knight
(Oct 17, 2017 at 8:42 PM)
I like sweet wine. Really sweet wine. This is my all time favorite! I really only enjoy Riesling and Moscato, until I found this! At $15 a bottle I have 0 complaints!!!
Rebecca McKenna
(Oct 20, 2017 at 7:03 PM)
I'm in love with this Sweet Gewürzrtraminer! It's got such a sweet flavor and goes down so smooth. And, gotta love the cobalt blue bottle, too!
Douglas Sands
(Nov 2, 2017 at 3:18 PM)
I Love this Sweet Gewurzftraminer! It is my favorite! Joined the club and have the wine Shipped to our home. Great Deal Ten Dollar flat rate shipping!
Valerie
(Dec 11, 2017 at 1:46 PM)
This wine is terrific! It is really difficult for me to find a sweet enough wine to go with dinner, but this is incredible. So much sweeter than regular Gewurztraminer. I love it!
Craig
(Mar 29, 2018 at 2:07 AM)
One of my favorite products of the Grand Junction Area, I order the Sweet Gewurztraminer every time I am in the area or online. 2016 was my favorite year so far but all of them have been amazing.
Laurie
(Jun 3, 2018 at 10:24 AM)
My book club meets once a month and a glass of wine is usually in order. I'm not much of a wine drinker but love this Sweet gewürztraminer....most of the book club members like a dry red but two of us always have a bottle of this on hand. It's our favorite!
Kathie
(Jun 12, 2018 at 7:38 PM)
This is a wonderfully sweet wine, very mellow, one of my favorites, always ordering this wine.