2017 Laughing Cat Sweet Gewürztraminer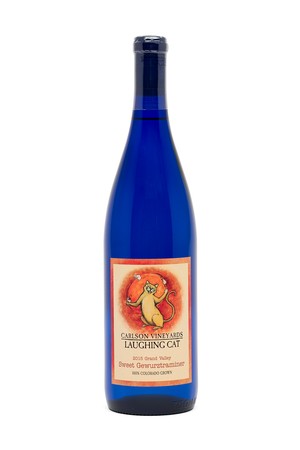 Wine Specs
Residual Sugar
9.6g/100ml
Sweet Gewurztraminer exudes the luscious floral aromas and tastes of our traditional Gewurztraminer, yet it is a sweeter white wine for sweet wine lovers.
Wine Specs
Residual Sugar
9.6g/100ml
Wine Profile
Tasting Notes
Sweet in the beginning with pink grapefruit, lychee, and tropical fruits. Full bodied on the palate with an aromatic nose. star bright clear and pale straw in color.
Awards
Gold Winner of the 2018 Governor's Cup
Food Pairing Notes
Sweet Gewurz is great with smoked salmon, bratwurst, turkey, Asian food, and spice cake. Gewurztraminer is famously good with the chaos of flavors at Thanksgiving meals. Serve chilled.
Product Reviews
Abbey
(Sep 30, 2018 at 7:59 PM)
Would drive across the country for this wine! Luckily, I don't have to!
Stephanie
(Jan 14, 2019 at 7:07 AM)
By far my favorite wine! I can drink an entire bottle all by myself.
Ashley
(Jan 16, 2019 at 9:26 AM)
This is easily my favorite wine! I miss living in the Valley and being about to pick up a bottle anytime! Thankfully they ship across the country!!
Johnny Price
(Apr 27, 2019 at 7:48 PM)
Very nice light flavored and sweet wine.Good finish, will purchase again.
Carrie Cortez Ferren
(Jun 1, 2019 at 11:35 AM)
Delicious.
George
(Nov 17, 2019 at 8:08 PM)
This is by far my absolute favorite. Bought a bottle when we visited the Winery. Had to place an order for more! Certainly will be buying more in the future.