2019 Laughing Cat Semi-Sweet Gewürztraminer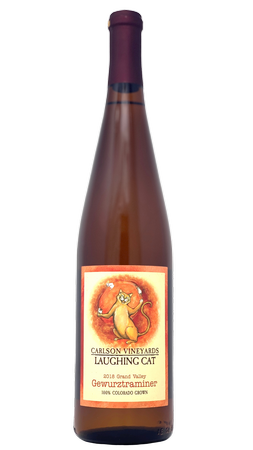 Wine Specs
Residual Sugar
2948mg/100ml
Our Gewurztraminers (pronounced ge-vertz-tram-me-ner - or ask for our "G" wine) are nationally-recognized, sell-out wines year after year. Ours is a well-balanced, semi-sweet white wine from Gewurztraminer grapes.
Wine Specs
Residual Sugar
2948mg/100ml
Wine Profile
Tasting Notes
The heady, captivating aroma notes are lime candy, spice and rose. Taste is tropical fruit, honey and Asian spices.
Winemaker Notes
Grape varietal: 100% Gewurztraminer grapes
Food Pairing Notes
Great with smoked salmon, bratwurst, turkey, Asian food and spice cake. Gewurz is a favorite with the chaos of flavors at Thanksgiving meals. Good by itself, before or with dinner and good friends. Serve chilled.