Cherry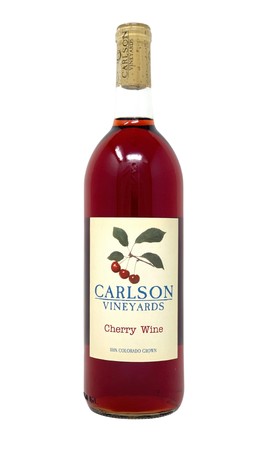 Wine Specs
Appellation
Grand Valley AVA
Bottling Date
July 23, 2020
100% Colorado-grown Montmorency pie cherries are pressed and fermented to make this sweet, yet tart, wine taste just like cherry pie without the crust.
This wine pairs perfectly with anything chocolate, especially dark chocolate, for the ultimate end to a romantic date night.
Wine Specs
Appellation
Grand Valley AVA
Bottling Date
July 23, 2020
Wine Profile
Tasting Notes
Sweet and ripened, tart cherries with a hint of cinnamon, bright acidity and a clean finish.
Production Notes
485 cases
Winemaker Notes
100% Western Slope Montmorency cherries; no grapes added.
Food Pairing Notes
Smoked meats, smoked oysters, BBQ pork, glazed ham, rich chocolate desserts, New York cheesecake, dark chocolate.
Other Notes
For a real treat, serve with melted Enstrom's semi-dark chocolate on the rim of a wine glass. Also take a look at our Cherry Lemonade recipe under the About Us tab!
Product Reviews
Kim Mecham
(Nov 14, 2020 at 3:17 PM)
I am hooked to this flavor! While visiting Palisades we bought 6 bottles thinking it would last a while and it didn't last one month.. Ordering a case ASAP!!
MJ
(Jan 22, 2021 at 10:36 AM)
This is a perfect dessert drink. I am not a sweet wine drinker, but this is so fun. Pared with chocolate is like having one big cherry cordial. Who knew Colorado had wine when you live in CA!
Karla
(Mar 24, 2021 at 12:08 PM)
Love this wine
Mandi
(Jun 8, 2021 at 2:30 PM)
My husband & I love to enjoy the Cherry wine while we are relaxing after dinner and on the weekends. It is enjoyable with