2015 Pearadactyl (Pear-Apple)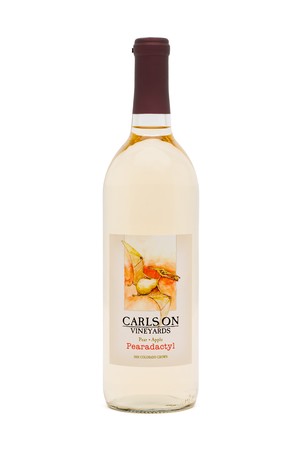 The original member of the Carlson Vineyards Mythical Dinosaur series is a blend of 100% Colorado grown pears and apples. This wine is reminiscent of German-style fruit wines.
Wine Profile
Food Pairing Notes
Slightly sweet and tart, Pearadactyl goes with most light foods, salads and cheeses. Truly a great summer wine. Serve chilled.
Product Reviews
Daniel E Craig
(May 14, 2017 at 9:38 AM)
Wow!!
Casey Hiner
(Jun 2, 2017 at 11:17 AM)
Too yummy!
Janny Craighead
(Jul 2, 2017 at 8:37 AM)
Very good.. and I am not a big wine drinker would buy this one again
Malia Duty
(Jun 9, 2018 at 9:07 AM)
Amazing wine!!! Best "dry" wine I've ever tasted. Love the combination of the pear and apple.