OUR ROOTS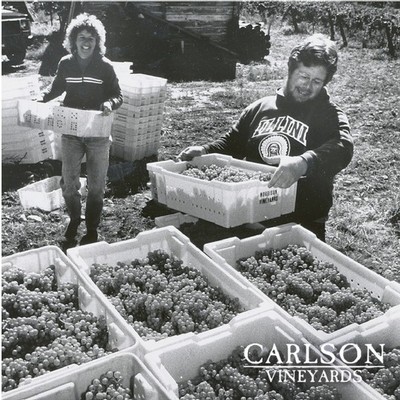 In 1981, Carlson Vineyards' founders, Parker and Mary Carlson, planted their first vines on four acres in East Orchard Mesa above Palisade, Colorado; seven years later they established the winery in a 1930s fruit packing shed. What started out as a home hobby eventually took over all spare spaces throughout their house and has grown into one of Colorado's most award-winning, recognizable, and friendly wineries.
Parker recalls, "From day one, we decided to make wine from the superlative locally grown wine grapes and fruit from farms in Palisade and Delta County. We also decided that while we took the art of winemaking very seriously, we liked to have fun, too. We asked 'Why make drinking wine complicated?' Our idea was to craft fine wines that people enjoyed drinking, that were affordable, friendly, and unpretentious. We encouraged people to trust their own taste. Our belief was that wine is a great accompaniment to life, best with food and friends."
PRESENT DAY
Current owner Garrett began working at Carlson Vineyards in 2011 with hopes of starting a winery of his own someday. Making wine in CO can be a daunting task due to the climate and the unfamiliar wine region, but his love of Colorado and wine made the opportunity to purchase Carlson Vineyards too good to pass up.
"I look forward to building Carlson Vineyards and continuing to be a positive part of the Colorado wine industry," says Garrett. "We hope to maintain the legacy started here by Parker and Mary Carlson as well as add our own influence to further build the winery."
The Carlsons and Garrett continue to enjoy each others' company and friendship today. Garrett's daughters often give Parker and Mary drawings to hang in their home, and the families enjoy meals and recreation together as they are able.