2015 Tyrannosaurus Red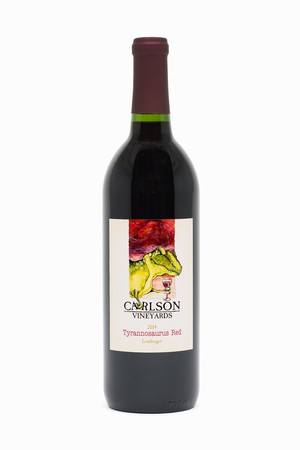 Tyrannosaurus Red (or T-Red) is crafted from Lemberger, a sturdy German grape that thrives in Rocky Mountain vineyards. A dry, slightly oaked, medium-bodied red wine. The name is inspired by the massive T-Rex skeleton discovered in the Grand Valley, displayed at the Chicago Field Museum.
Wine Profile
Tasting Notes
The 2015 T-Red has aromas of dark fruit, berry jam, berry soda, hay, and dry earth; followed on the palate with spicy notes, black pepper, earth, a pleasant fruitiness.
Food Pairing Notes
Good with pastas, red meats, lamb, hamburgers, turkey, hearty cheeses and good friends. Serve at cool room temperature.
Product Reviews
Casey Hiner
(Jun 2, 2017 at 11:18 AM)
This is very good and pairs well with everything!
Argus Villines
(Nov 6, 2017 at 10:49 AM)
This is an especially nice medium bodied red wine. This is our favorite Carlson wine! We bought a case during the winery tour and tasting there. We just ordered another case online since we ran out. Very convenient! Super all around good wine!