2016 Peach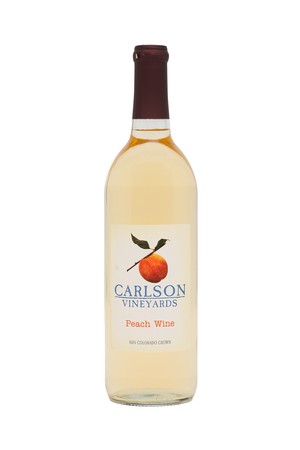 Since the late 1800s, Palisade has been famous for its extraordinarily flavorful peaches. Carlson's renown Peach wine is made from ONLY 100% Palisade-grown peaches... mouth-watering, chin-dripping, just-harvested, juicy, sweet, pure high-altitude sun-ripened peaches.

Wine Profile
Tasting Notes
This lovely, aromatic, semi-sweet wine is a good accompaniment with many foods and moods including Asian chicken salads, duck, fruit salads, Brick and Havarti cheeses, or by itself on summer afternoons with friends. Serve chilled. Or warm - click here for our Hot Peach Wine recipe. Like peach cobbler in a mug!
Product Reviews
Rebecca McKenna
(Oct 20, 2017 at 7:05 PM)
I fell in love with this wine at the Tasting Room when they were serving it as the "Hot Peach Cobbler In A Mug". An absolutely wonderful fall or winter warm beverage. Tastes delicious and gives such a comforting feeling!
Doug Evans
(Nov 30, 2017 at 5:23 PM)
Great by itself or as a hot mulled wine
Marilyn Olson
(Dec 10, 2017 at 4:05 PM)
My daughter sent us this wine as a gift. Love it.
Val
(Dec 11, 2017 at 1:49 PM)
I prefer this wine as a hot beverage prepared with the recipe given to us at the winery because I don't get a strong peach flavor when it it cold. We were advised to try putting frozen peach wedges in the chilled wine, so I look forward to trying this next summer when the peaches come in.
Toni Reynolds
(Jun 15, 2018 at 1:28 PM)
This is my favorite chilled summer wine to drink on the patio, just a hint of peach and sweetness goes down easy.
Mike O.
(Sep 9, 2018 at 7:23 PM)
The best peach wine I have ever experienced - the true peach flavor is amazing!
Carol R
(Nov 3, 2018 at 8:58 AM)
Excellent peach tasting wine! Definitely will be ordering it.
Christina
(Nov 10, 2018 at 9:47 AM)
The tasting room offered me a hot peach cobbler. I had to buy a bottle to make it myself. Delicious.
Brenda Alcala
(Nov 15, 2018 at 12:55 PM)
Love this wine! Hot or cold, it's delicious!
Tina
(Dec 11, 2018 at 10:09 AM)
I made the peach wine as directed on the recipe given at the winery, I added a touch more cinnamon to it but it was amazing! I love it hot or chilled. I'm just sorry I didn't buy more while I was there, making a trip very soon to buy more!