2017 Plum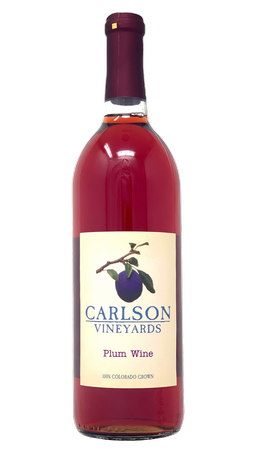 Since 1988, Carlson Vineyards has been well-known for its finely crafted fruit wines, such as this Plum wine featuring a semi-sweet, flowery, spicy fruit flavor. Made with purely 100% Colorado grown plums, harvested at the height of flavor, pressed for their juices, and nurtured into a richly flavorful wine.
Wine Profile
Tasting Notes
Coral in color, fruity plum nose, with undertones of floral components and crisp acidity
Awards
2018 Double Gold Winner of the Colorado Governor's Cup
Production Notes
100% Duarte Blood Plums
Food Pairing Notes
Good with Asian foods, barbecued meats, or by itself. Serve chilled. NOTE: Carlson's Plum wine is not as sweet as traditional Asian plum wine. Enjoy!
Product Reviews
Marlyss Giles
(Apr 12, 2020 at 8:27 AM)
Order was a gift for my brother in Colorado. I live in Alabama & you don't ship here. :(
Mjolly
(May 15, 2020 at 8:35 AM)
This was a gift for my niece In AZ and she loved this wine.
J. S.
(May 21, 2020 at 9:18 AM)
How delightful to find a 100% Plum wine that is not overly sweet ! This has great flavor and goes with any meal. We will be buying lots more !