2016 Laughing Cat Semi-Sweet Riesling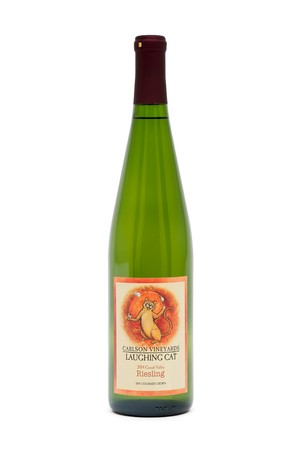 Wine Specs
Harvest Date
October 6th, 2016
Residual Sugar
3277mg/100ml
Medium in body with a good balance between sweetness and tart. Green apple, lime and wet rock with a citrus fruit aroma
Wine Specs
Harvest Date
October 6th, 2016
Residual Sugar
3277mg/100ml
Wine Profile
Tasting Notes
Carrying on the tradition of excellence, this fruity Riesling is produced from Colorado-grown grapes with tastes of apple, apricot, and pear. It is a semi-sweet white wine, with a balance of tartness and fruity floral aromas.
Awards
Carlson is famous for Rieslings, we were honored with the World Riesling Cup in 2004, DOUBLE GOLD at the same prestigious International Eastern Wine Competition in 2009, and the 2014 won Silver at Indy International.
Production Notes
Grape varietal: 100% Riesling
Food Pairing Notes
Very versatile with both people and food, pleasant before dinner, and delicious with light dishes such as melon, prosciutto, baked ham, chicken, trout, "Swiss" type cheeses and fresh fruit. Serve chilled.
Product Reviews
Cameron
(Jul 20, 2018 at 9:58 AM)
Perfect summer wine! We welcome guests to our vacation rental home with a bottle of this Riesling and have gotten multiple compliments on the wine. It's delicious!
Kent Brown
(Nov 18, 2018 at 11:17 AM)
This is a lovely wine. Great for many occasions and foods. But my favorite experience was the challenge of finding a pairing for candy corn for Halloween night. I drove to the winery (nice to have it local) and asked Megan for her suggestions. I had a bag of candy corn along and after trying several whites and reds, Megan suggested this Riesling. I agreed. She said the honey notes in the wine were picking up something in the candy corn. She wondered if the candy had honey in it. We checked the ingredients. It did contain honey! Great pairing advice. I bought a bottle and enjoyed the enhanced munching of candy corn while waiting for trick or treaters. And yes, this wine is excellent with other dishes as well.