2017 Peach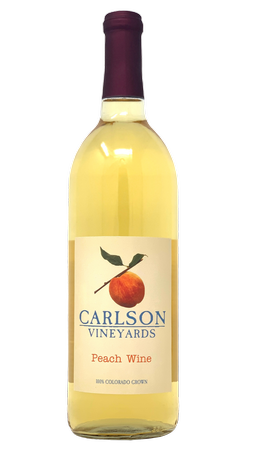 Wine Specs
Bottling Date
July 11th-13th 2018
Since the late 1800s, Palisade has been famous for its extraordinarily flavorful peaches. Carlson's renown Peach wine is made from ONLY 100% Palisade-grown peaches... mouth-watering, chin-dripping, just-harvested, juicy, sweet, pure high-altitude sun-ripened peaches.

Wine Specs
Bottling Date
July 11th-13th 2018
Wine Profile
Tasting Notes
This lovely, aromatic, semi-sweet wine is a good accompaniment with many foods and moods including Asian chicken salads, duck, fruit salads, Brick and Havarti cheeses, or by itself on summer afternoons with friends. Serve chilled. Or warm - click here for our Hot Peach Wine recipe. Like peach cobbler in a mug!
Awards
Winner of the 2017 Governor's Cup
Vineyard Notes
100 % Palisade Peaches, no grapes added
Product Reviews
Amanda Lineberry
(Feb 14, 2019 at 8:13 AM)
Semi Sweet, so delicious. This makes an excellent sipping wine in the summer, but I drink it year round. It's honestly the reason I bought their c3 club membership.
Reatha burbage
(Jul 3, 2019 at 9:56 AM)
Luv taste real joy bottle wine
Sarah
(Aug 17, 2019 at 3:09 PM)
Best Peach wine in the Grand Valley. Not too sweet, plenty of fruit flavor, and Carlson has recipes for both summer sangria and winter mulled wine. Delicious. A good gift for visitors too!
Crystal
(Apr 1, 2020 at 11:44 AM)
One of my favorites! It is amazing served chilled or hot following the recipe as written. It's delicious.
Joy
(Apr 8, 2020 at 12:27 PM)
I am hooked on this wine, it is sweet but not too sweet as others are saying. Very delicious. I just tried this wine for the first time yesterday and will be purchasing more bottles. Very tasty, I like the flavor.
Samantha
(Apr 26, 2020 at 4:23 PM)
My favorite peach wine!
Mjolly
(May 15, 2020 at 8:38 AM)
One of the best peach wines I have ever drank. Been a fan of Carlson wines since the 1980s.