2018 Cherry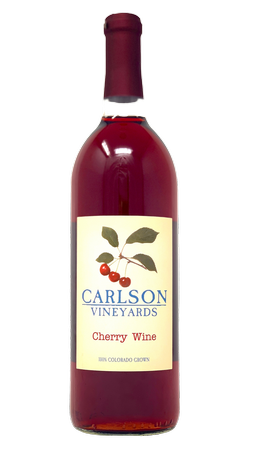 Absolutely fresh-pressed juices from 100% Colorado-grown Montmorency pie cherries make this sweet-tart wine like cherry pie without the crust. And yes, the pure cherry juice results in wine that is naturally this beautiful ruby color.
Wine Profile
Tasting Notes
sweet tart cherry with bright acidity and a clean finish
Production Notes
100% Montmorency Pie Cherries
Food Pairing Notes
This perennial favorite goes with smoked meats, smoked oysters, glazed ham, rich chocolate desserts or by itself with good friends. Serve chilled. For a real treat, serve with melted Enstrom's dark chocolate (or any quality dark chocolate) on the rim of the wineglass. Very decadent!
Product Reviews
Christine Marrs
(Apr 1, 2020 at 3:15 PM)
My boyfriend and I fell in LOVE with this Cherry Wine at a Denver wine event! Not overly sweet, so you can truly taste the real cherries used. We are hooked!
J.S.
(May 21, 2020 at 9:24 AM)
Tasty 100% Cherry wine that goes with anything ! This is not a syrupy-dessert wine. Can't wait to try the recipes that Carlson included with this wine purchase. We will be buying more. THANKS !