2018 Laughing Cat Sweet Baby Blush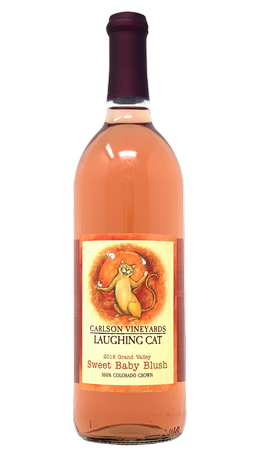 Wine Specs
Appellation
Grand Valley AVA
Bottling Date
June 4, 2019
If you like White Zinfandel, you'll love our Blush because it's similar yet much more flavorful. Sweet Baby Blush is the largest selling Colorado- made Blush wine.
Wine Specs
Appellation
Grand Valley AVA
Bottling Date
June 4, 2019
Wine Profile
Tasting Notes
Balanced acidity with hints of strawberry with light floral notes.
Winemaker Notes
Grape Varietals: Syrah, Riesling
Food Pairing Notes
Dry rubbed barbecue, smoked turkey breast, spicy green chili, feta cheese, mixed greens with a strawberry vinaigrette, BBQ chicken.
Product Reviews
Erica Schaeffer
(Apr 13, 2020 at 7:39 AM)
Hands down the best wine ever! My absolute favorite!
Linn Barrett
(Apr 15, 2020 at 8:25 AM)
Totally enjoy this wine...especially when it has the prairie dog label!!
Sandra Thompson
(Apr 21, 2020 at 12:09 PM)
My husband & I love Carlson Wines but Prairie Dog is our favorite and too love the Prairie Dog Label makes it cool, Great Prompt Service and Friendly Staff. Ordering first time on line due to stay at home. Love this Company