2018 Laughing Cat Sweet Baby Red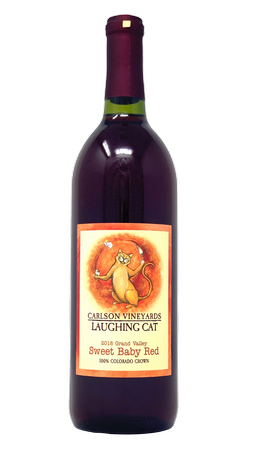 Wine Specs
Appellation
Grand Valley AVA
Harvest Date
8/30/2017-9/8/2017
Bottling Date
5/9-5/10/2017 and 6/19-6/21/2017
The Laughing Cat Sweet Baby Red is a semi-sweet red wine blend of Colorado-grown grapes, primarily Merlot.
Wine Specs
Appellation
Grand Valley AVA
Harvest Date
8/30/2017-9/8/2017
Bottling Date
5/9-5/10/2017 and 6/19-6/21/2017
Wine Profile
Tasting Notes
This red wine is medium-bodied with aromas of raspberries and other berries. If you like to drink a heart-healthy red wine and prefer fruity rather than a dry style, try this. Well-loved by visitors.
Production Notes
A blend of 8 different grapes primarily focused on Merlot, Gewuztraminer, and Orange Muscat.
Food Pairing Notes
Try with pork, chicken, glazed ham, chocolate raspberry desserts and brownies. Serve slightly chilled.
Product Reviews
Melissa
(Apr 23, 2020 at 6:57 PM)
I was given a bottle as a Covid quarantine survival gift and I love it! Sweet but not too sweet. Finishes smooth.
Debra Drinkwine
(May 20, 2020 at 9:22 AM)
Love it!
Jordon
(May 30, 2020 at 9:00 AM)
A light and fruity wine. If you like sangria, you will love it.
Curtis
(Aug 9, 2020 at 2:38 PM)
This wine's sweetness is just right without the dry aftertaste some wines have. It is smooth, pleasant, and perfect for my taste.