2018 Laughing Cat Sweet Gewürztraminer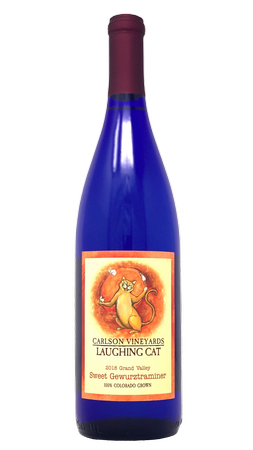 Wine Specs
Residual Sugar
9.6g/100ml
Sweet Gewurztraminer exudes the luscious floral aromas and tastes of our traditional Gewurztraminer, yet it is a sweeter white wine for sweet wine lovers.
Wine Specs
Residual Sugar
9.6g/100ml
Wine Profile
Tasting Notes
Sweet in the beginning with pink grapefruit, lychee, and tropical fruits. Full bodied on the palate with an aromatic nose. star bright clear and pale straw in color.
Awards
Gold Winner of the 2018 Governor's Cup
Food Pairing Notes
Sweet Gewurz is great with smoked salmon, bratwurst, turkey, Asian food, and spice cake. Gewurztraminer is famously good with the chaos of flavors at Thanksgiving meals. Serve chilled.
Product Reviews
Vicki Demerath
(Mar 19, 2020 at 8:50 AM)
Thus is the only wine I will drink. When I have a glass of this wine I could drink the whole bottle.
Paris Chauvin
(May 25, 2020 at 10:41 AM)
This is my favorite sweet white wine !
Donna
(Jun 9, 2020 at 5:03 PM)
I'm with the two other reviewers: my favorite white wine and the only one I'll drink.