Contact
2020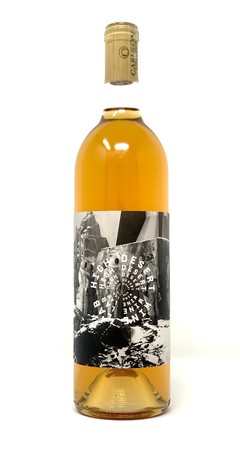 Wine Specs
Appellation
Grand Valley AVA
Harvest Date
August 26, 2020
Bottling Date
June 3, 2021
Orange wine is becoming more and more popular, but it's not made from oranges! This wine is made from white grapes, but in a red style, meaning it's fermented on the skins before pressing. The skin contact gives the wine a beautiful color and rich flavor; something you'll definitely want to try at least once.
Contact is produced in partnership with Bin 707 Foodbar under the High Desert Wine Lab label, and is the house orange wine for Bin707 and Taco Party.
Wine Specs
Appellation
Grand Valley AVA
Harvest Date
August 26, 2020
Bottling Date
June 3, 2021
Wine Profile
Tasting Notes
Notes of dried apricots, and a mouthfeel similar to a hazy IPA.
Production Notes
136 cases
Winemaker Notes
Contact was made using La Crescent grapes, in the way that reds are normally done - fermented on the skins. This skin contact results in an orange color and a fuller body than your everyday white wine.
Product Reviews
Melissa Mielke
(Dec 22, 2021 at 7:34 AM)
I was excited to try a new wine from Carlson. So many good wines lately! This one is a total miss. It was so acidic - like it had gone bad. It had no depth of flavor, very flat. We ended up dumping the bottle after trying it.
Patrick Simmons
(Mar 24, 2022 at 2:43 PM)
I had high hopes for this one as well! I like mostly fruit wines anyway! Peach wine and Cherry wine are why I joined the wine club in the first place... This one was not drinkable. One good sip and out it went! Gonna stick to what I know from now on!
Paul T
(Apr 2, 2022 at 12:21 AM)
Vegetal. At best an acquired taste but honestly doesn't have the best aftertaste. Maybe its your thing but don't expect it to taste like wines you know. notes of fermented fruits. aftertaste is a bit too sour.
Mary
(Jul 25, 2022 at 6:42 PM)
I loved this wine! As a primarily red wine drinker, this was a great dry white to add to my summer drink list!