Laughing Cat Sweet Baby Red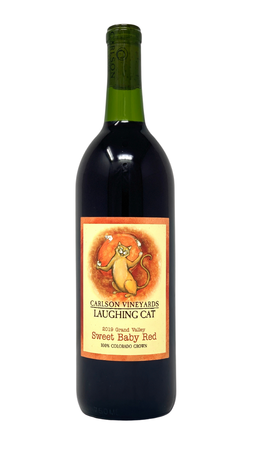 Wine Specs
Appellation
Grand Valley AVA
Harvest Date
August/September 2020
Bottling Date
May 20, 2021
The Laughing Cat Sweet Baby Red is a sweet red blend of Colorado-grown grapes, primarily Merlot. One of our longest-running and best-selling wines, it's sure to please semi-sweet and sweet wine drinkers alike!
Wine Specs
Appellation
Grand Valley AVA
Harvest Date
August/September 2020
Bottling Date
May 20, 2021
Wine Profile
Tasting Notes
Medium body, balanced acidity and sweetness, dark fruit notes like black currant, cherry, and blackberry.
Production Notes
913 cases
Winemaker Notes
Grape Varietals: Merlot, Chambourcin, and Orange Muscat take the lead in this blend of 8 different grapes.
Food Pairing Notes
Pork, chicken, glazed ham, spicy Mexican food, chocolate raspberry desserts. Delicious chilled as well!
Other Notes
Try our Sangria recipe, which uses our Sweet Baby Red! Find it under the About Us tab.
Product Reviews
mrsarnie
(Dec 15, 2021 at 5:32 PM)
This is one of my all-time favorite wines. I've traveled 100 miles just to find where it was sold in Wisconsin. Worth it!!
Lori Papa
(Dec 17, 2021 at 3:28 PM)
5 I love the smoothness and semi-sweet flavor
Brenda L Steurer
(Jan 31, 2022 at 12:28 PM)
My favorite wine! I've been drinking it for years and have not yet found a wine i like better!
Rebeka
(Feb 5, 2022 at 8:16 PM)
My husband and I purchased a few bottles of this laughing cat sweet baby red wine in Colorado. We've been wanting to branch out and find what types we really like since most we get are so bitter. This wine is so so good. It's now our favorite and are willing to order online just to get them. We can't wait to see the next flavors we try. Great wine seriously.
George
(Mar 25, 2022 at 3:52 PM)
Favorite red wine. Carlson has so many wonderful wines. Need to visit the winery again and stock up.