Laughing Cat Sweet Baby Red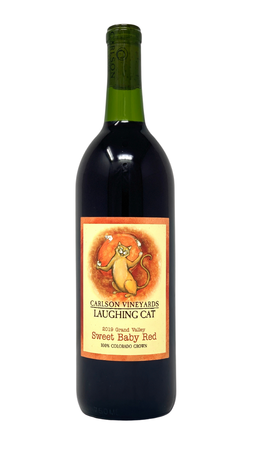 Wine Specs
Appellation
Grand Valley AVA
The Laughing Cat Sweet Baby Red is a sweet red blend of Colorado-grown grapes, primarily Merlot. One of our longest-running and best-selling wines, it's sure to please semi-sweet and sweet wine drinkers alike!
Wine Specs
Appellation
Grand Valley AVA
Wine Profile
Tasting Notes
Medium body, balanced acidity and sweetness, dark fruit notes like black currant, cherry, and blackberry.
Winemaker Notes
Grape Varietals: Merlot, Gewürztraminer, and Orange Muscat take the lead in this blend of 8 different grapes.
Food Pairing Notes
Pork, chicken, glazed ham, spicy Mexican food, chocolate raspberry desserts. Delicious chilled as well!
Other Notes
Try our Sangria recipe, which uses our Sweet Baby Red! Find it under the About Us tab.
Product Reviews
Antonio Souza
(Sep 2, 2020 at 7:28 PM)
Tasted at the winery and took it home. Spectacular. Goes down really easy, and not a hint of headache after a few glasses.
Schawn Kellogg
(Oct 2, 2020 at 5:52 PM)
Enjoyed a bottle at Melting Pot when our usual Reisling was unavailable. This wine is excellent, smooth, light, hint of peach. Now our favorite!
Mauree
(Nov 1, 2020 at 10:33 AM)
Rediscovered that Praire Dog wine has been found and name Sweet Baby Red.Love the wine and out of state shipping options so can enjoy all year long. Cheers to Praire Dog and Sweet Baby Red.
Meg
(Nov 14, 2020 at 6:04 PM)
Sweet Baby Red has been my favorite from the first time I ever tasted it...20+ years ago! Great taste associated with great memories, thank you Carlson Vineyards!! I'll be a loyal customer forever!
Tammy
(Dec 13, 2020 at 8:50 AM)
This is my favorite wine of all time. I am not a big drinker but this is the best and I use it for gifts as I have many friends that also love it. Worth it to try this one.
Stephanie Holloway
(Dec 13, 2020 at 9:40 PM)
The Best red wine, I've ever had. The aftertaste just lingers on your tongue. Leaves fresh fruity niotes.
GARY
(Dec 19, 2020 at 4:11 PM)
the very best
Keri Kay Pickett
(Dec 20, 2020 at 2:41 PM)
Amazing awesome good !❤
Lindsay
(Dec 23, 2020 at 8:29 AM)
Love this wine! We visited CO 8 years ago, and I've been having it shipped to me in the wine club for a few years now running. I'm a sucker for sweet baby red. My favorite wine! Thank you Carlson Vineyards!
LinAlyce
(Dec 29, 2020 at 11:59 AM)
Absolute Favorite!!! Convinced me to join the Wine Club!! My kids prefer drier wines but this is one I always come back to!!!
Samantha Clarkson
(Mar 27, 2021 at 7:12 PM)
Bought this in Colorado because it was a sweet red wine from Colorado and it was absolutely delicious. Definitely would buy again, perfect for someone like me with a sweet, fruity tooth.
Carolyn
(Apr 11, 2021 at 1:43 PM)
Can't buy this in Nevada so I buy and drive to California to pick up. Love it. It is the best. Well worth the drive