NSFW Red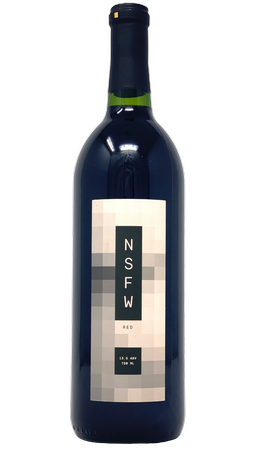 Wine Specs
Appellation
Grand Valley AVA
Harvest Date
September 2018
Bottling Date
April 23, 2020
Our NSFW (Not Safe For Work) line is a good reminder that wine can be enjoyed daily. This well-rounded table red is an easy drinker that pairs well with simple, casual meals or a good movie.
Wine Specs
Appellation
Grand Valley AVA
Harvest Date
September 2018
Bottling Date
April 23, 2020
Wine Profile
Tasting Notes
Medium-plus body, notes of ripe black fruit and hints of leather, followed by a lingering spicy finish.
Production Notes
425 cases
Winemaker Notes
Grape Varietals: Merlot, Noiret, Chambourcin
Food Pairing Notes
Bison burgers, lasagna, roasted vegetables.
Product Reviews
Darren R DelTondo
(Jul 14, 2018 at 8:59 PM)
If you love Vinyard fresh wine, this is it!
MaryAnn
(Sep 24, 2018 at 2:32 PM)
Enjoy this red very much.
Alicia Walsh
(Sep 29, 2018 at 8:29 PM)
We bought this bottle and took it home with us and when we opened it a few days later it had turned on us. We were very disappointed so we sent an email back to the winery and they were so apologetic and immediately sent us a new bottle. The new bottle was just as amazing as when we tasted it at the winery!
PatM
(Dec 11, 2018 at 2:19 PM)
Very smooth, tasty red wine. We had this with roasted chicken and roasted root vegetables. It worked well because it wasn't too heavy but had plenty of flavor.
Cynthia
(Mar 16, 2019 at 6:47 PM)
This is a great red. Will keep this around forever!
Lewis M Devore
(Sep 1, 2019 at 11:35 AM)
A wonderful blend with just the right fruity touch and a hint of sweetness
Mike Perreault
(Sep 25, 2019 at 5:16 PM)
Visited the winery this summer and brought this bottle home (amongst other). Loved this bottle with a bbq.
Patti Virden
(Nov 19, 2020 at 5:04 PM)
NSFW Red is so smooth and delicious! I took a gamble and bought this without sampling and it paid off!
Melissa Johnson
(Feb 28, 2021 at 10:34 AM)
This is by far over if my favorite wines to enjoy with a dinner and friends. We have gifted so many bottles to friends so they can enjoy this wine as well. I highly recommend this wine for relaxing after a tough day, a steak dinner, or just hanging out with friends.