R&D Ice Wine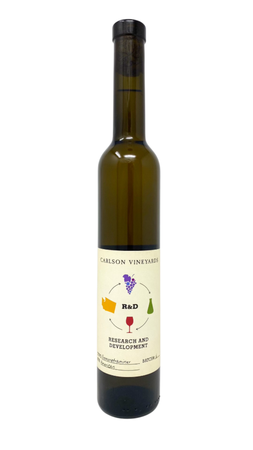 The sixth installment of our R&D label is a Gewürztraminer ice wine produced in Washington. Ice wine is made from grapes that are allowed to freeze on the vine, capturing a natural sweetness you don't get when working with fresh grapes prior to freezing temperatures. Because of the risk of losing fruit (who can guarantee whether the grapes will freeze before going bad?), ice wine is not produced in many regions or by many winemakers. We had an opportunity to bring this wine in as an additional offering to our sweet wine menu, and with the tough year on Grand Valley grapes in 2020, we figured it was the perfect time.
As with all our R&D wines, we hope you take the opportunity to give feedback on whether you'd like to see us have ice wine in our future.
Our R&D Red Fortified wine is available to Club Members only. Not in the Club? Join here!
Wine Profile
Tasting Notes
Orange peel and vanilla on the nose, with a palate of candied Honeycrisp apples and rich mouthfeel.
Winemaker Notes
100% Gewürztraminer
Food Pairing Notes
spiced apple cakes; whole-orange cake; gingersnaps
Product Reviews
Jessica Dutton
(Nov 21, 2021 at 9:50 AM)
Very smooth and sweet!
Veda P Mascarenas
(Nov 27, 2021 at 5:45 AM)
Delicious - smooth and sweet. Only complaint - bottles are TOO small!
Marc Bachmeier
(Dec 4, 2021 at 8:39 PM)
I was curious about an Ice wine, being unfamiliar with the variety. This wine is sweet and delicious. Once again Carlson Vineyards does not disappoint.