Round 1 Sweet 4 Pack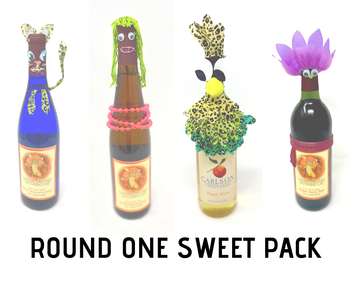 Round One of the Carlson Vineyards bracket is complete. This four pack includes the sweet winners. Buy all four in a bundle and get a deal. Stay tuned on facebook for Round 2 voting!
This bundle includes one bottle of each of the following wines: Sweet Gewurztraminer, Gewurztraminer, Peach and Sweet Baby Red.
Warning: costumes not included.
Product Reviews
Laurie Langdon
(Apr 19, 2020 at 11:09 AM)
Four of Carlson's best wines!! Great job! ❤️
Ashley
(Apr 22, 2020 at 9:25 AM)
LOVE their wine. I tried Laughing Cat during a wine tasting and ended up buying a bottle of the Peach wine instead, not realizing they're made by the same company. When I found out they had a whole box of my favorite wines I tried, I HAD to purchase. In fact, I just ordered my second box, today! Highly recommend if you like sweet wines. Carlson Vineyards is by far my top 3 favorites made in Colorado.