Kansas City-Style Barbecue Sauce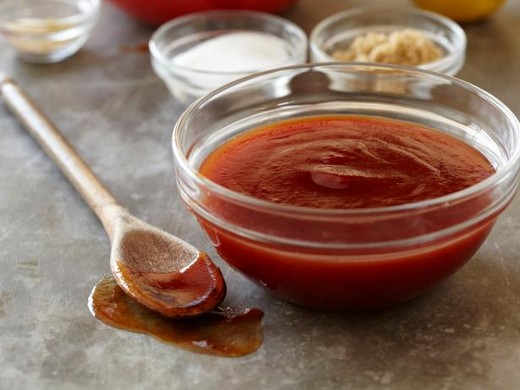 Recipe Date:
November 21, 2016
Measurements:
Imperial (US)
Tangy, sweet and spicy!
Ingredients
2 tbsps vegetable oil
2 tsps mashed garlic
2 tbsps tomato paste
1 tbsp chile powder (ground chile, not a blend)
1 tbsp paprika
1/2 tsp crushed red pepper
1 tsp fresh grated ginger root
2 cups ketchup
2 cups water
1/2 cup balsamic vinegar
1/4 cup dark molasses
2 tbsps honey
2 tbsps brown sugar
1 tbsp kosher salt
1 tbsp soy sauce
1 tbsp worcestershire sauce
1 1/2 tsps ground mustard
1/2 tsp mustard seed
1/2 tsp fresh ground black pepper
1 bay leaf
Directions
HEAT OIL IN SAUCEPAN OVER MEDIUM HEAT. STIR IN GARLIC, TOMATO PASTE, CHILE POWDER, PAPRIKA, RED PEPPER, AND GINGER ROOT, AND COOK, STIRRING UNTIL PASTE IS DARK BRICK RED. ADD REMAINING INGREDIENTS. ADJUST HEAT TO MAINTAIN AN EBULLIENT SIMMER AND COOK UNTIL REDUCED AND THICK AS DESIRED. REMOVE AND DISCARD BAY LEAF BEFORE USING. WILL KEEP REFRIGERATED UP TO A MONTH.
ENJOY ON BURGERS, TOSSED WITH CHICKEN STRIPS OR WINGS, COOKED WITH BRISKET OR PORK CHOPS!!