Rotolo Di Frittata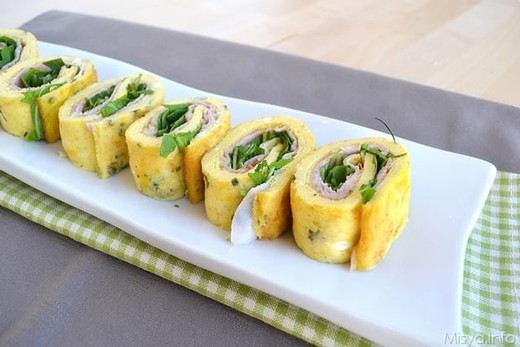 Recipe Date:
December 1, 2017
Measurements:
Imperial (US)
Ingredients
6 eggs whisked
1 tsp salt
1/3 cup Grana Padano cheese
1/3 cup Fontina cheese
2 zucchinis
1/2 cup olive oil
1/4 cup balsamic vinegar
chopped garlic
2 tomatoes
2 tbsps dried thyme
2 tbsps dried oregano
Directions
Grease a 9x12 baking pan with butter, line with parchment paper, grease paper.
Whisk 6 eggs, 1 tsp salt and 1/2 cup Grana Padano cheese.
Pour into baking pan and bake at 350 degrees for about 10 minutes.
Remove from pan with use of parchment paper and allow to cool.
Wash and cut 2 zucchinis into thin coins, toss with 1/4 cup olive oil and roast 20 minutes. Once it is cool, toss in 1/4 cup balsamic vinegar, 1/4 cup olive oil, 1 tsp chopped garlic, and salt to taste.
Wash and slice 4-5 tomatoes into wedges, toss with 1/2 cup olive oil, 2 tbsp dried thyme, 2 tbsp dried oregano, 1 tbsp chopped garlic and roast for 30 to 40 minutes. Allow to cool.
Chop together the cooled zucchini and tomatoes and spread over the frittata, spread a layer of shredded cheese (1/3 cup Grana Padono and 1/3 cup fontina).
Roll the frittata on the long side and wrap tightly in plastic wrap.
When ready to serve, slice into pinwheels and warm in oven to melt the cheese.