Tyrannosaurus Red Spaghetti Sauce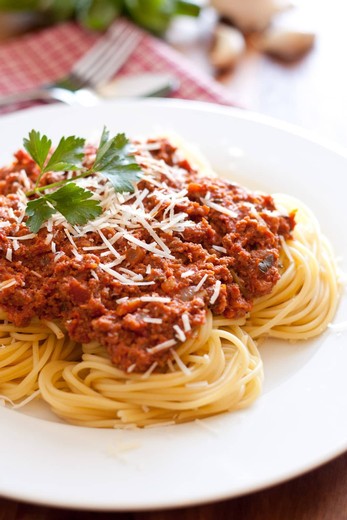 Recipe Date:
November 16, 2016
Measurements:
Imperial (US)
Ingredients
2 cups Carlson Vineyards Tyrannosaurus Red
4 med size onions - chopped
1/4 cup Olive Oil
4 cloves garlic chopped
1/4 cup butter
1 cup cellery tops - chopped
1 green pepper - chopped
1/4 lb mushrooms - chopped
1 tsp parsley
1 tsp basil
1/2 tsp pepper
1 tsp rosemary
2 tsps salt
1 lb Italiian sausage - sliced
1 lb lean ground beef
1 lb fresh ground pork
2 (6 oz) cans tomato paste
1 (1 lb 4oz) can tomatos
Directions
Saute' onion in olive oil and butter until golden. Add garlic and saute' 2 more minutes. Add parsley, celery tops, green pepper, mushrooms and seasonings, Saute' well stirring often. Brown meats in heavy large pan. Add veggis and mix well. Add tomatoes, tomato paste and wine. Bring to a boil, lower heat and simmer 3 hours.
Serve over pasta - freezes well.